Cozy is finished!!
Cozy is finally finished. I can honestly say this is the best thing I have ever knitted for myself. I LOVE this pattern.
Here is a (not very good) close up of the stitch detail...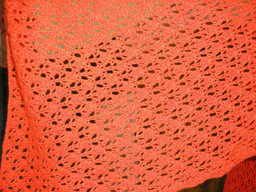 Vital statistics:
Yarn - 100% cashmere in "Fire Marl", a double knit yarn bought on eBay. I used just under 4 balls. Each ball was 200yds
Needles - 5mm Addi Turbos (circs)
Measurements pre blocking - 15" wide, 56" long
Measurements post blocking - 18" wide, 68" long
Time on needles - about 1 month
Things I learned knitting this:
1. Flat knitting on circs is fab. Quite apart from the issue of not having the weight of the garment on your wrists, I never realised until I knit with circs how much I wave my elbows about using straights! I must look like a mad woman!
2. Knitting lace needs concentration, but eventually the pattern "clicks".
3. Even if I make a mistake and don't discover it immediately and have to tink 2 1/2 rows to put it right I CAN DO IT!!
4. I learned so much about what different stitches actually LOOK like - I can now recognise k2togtbl, sl1k2togpsso etc. By the end I could tell at a glance if I had made a mistake on a row.
5. Lifelines are your friend. Even though I didn't have to use it I felt it was a great saftey net to have.
I was a bit concerned when knitting this that I was going to end up with a "granny" type blanket. Somehow I couldn't envisage the final garment. But it is SO not grannyish! It is
elegant
- not a word that generally springs to mind when thinking about garments I wear! It is just the right width and length. I'm a diddy person and it doesn't swamp me at all. It's JUST BEAUTIFUL!!
Eddie has christened this my nu-nu because I spent so much time cuddling it while I was knitting it. It is unbelievably soft. I have never owned anything in cashmere before, and could never have afforded to buy a luxury item like this. Yay for knitting!!
I'm going to knit another one in the South West Trading Oasis (see photo below).
Next up will be Booga Bag. I am, in fact, just 20 rows off finishing this. It has only taken a couple of days, and apart from the knots (grrr) in the Noro Kureyon it's been a great, mindless knit after Cozy.
Stafford show tomorrow. Eddie has just left with a trailer full of goats. I have to be there at 9 a.m. Wednesday for judging. That means a 5 a.m start tomorrow to get everyone fed and watered before I leave.
Better have an early night tonight!