Serious Yarn Diet required
I've come to the conclusion that I need to go on a serious yarn diet, and that perhaps
the best way to achieve this might be to shame myself and show the world (ok I know nobody's reading this, but who knows one day someone might stumble across it) how much yarn I've added to my already considerable stash in just the last MONTH. So, here goes. First up is Debbie Bliss alpaca silk.



Ok, don't be fooled by this innocent looking pile - there are actually 24 balls in the stash. Some bought from the lovely Sue at Little Knits, and some from the fab eBay seller Janette's Rare Yarns. The colour is actually Sage, although the picture looks a little grey. This is destined to become a C3

Next up comes my haul from Get Knitted: the yarn on the left is kid mohair, and the Oasis is Soy Silk. At the bottom is one beautiful skein of Artisan Merino




Next, one lonely ball of Rowan Kid Silk Haze. Bought to knit a lacy mohair scarf. Haven't decided on a pattern for this yet. The colour is Toffee, and it's not at all shiny, despite how it appears in the
picture.



Here we have two skeins of baby alpaca, hand dyed by nonokitty - isn't it beautiful? It's called "Bejewelled" and this is destined to be a fantastic lacy shawl.

And finally, again from the wonderful Sue at Little Knits, 3 balls of Noro Kureyon, which will be my first Booga Bag and 3 balls of Misti Alpaca, which I plan to dye before knitting up. I'm itching to try out dyeing with Koolaid, so that's what I intend to do with this.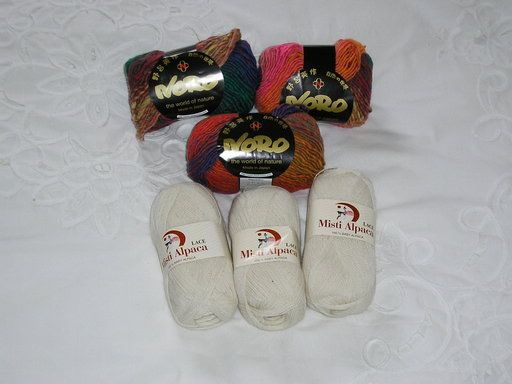 It amazes me that it is often cheaper (even with the cost of international shipping) to buy yarn from the US. Added to which they have such a wonderfully huge range to choose from.
Anyway, I think we can agree that these recent purchases are quite enough to be going on with, and really I don't need to buy any more yarn before the winter, do I? Hmm, I can see myself sticking to that - not!!