Welcome to my blog
Well I finally gave in to temptation and created a blog. I hope I manage to find the time to keep it up to date.

An exciting weekend just gone. We took 6 of our angora goats to the Newark & Notts county show. Of the 4 classes we won 3!! And not only that, we also won Champion Male, Champion Female, Reserve Champion Female AND Supreme Champion Best of Breed! Wow, we were totally gobsmacked. I'm so proud of the goats (who all behaved impeccably). It's great to know that the hard work we've put in over the last few years trying to breed top quality stock looks as though it may be paying off.

Their next outing is at the beginning of June when we take them to the Staffordshire county show. We'll be up against stiffer competition there, I think, so we don't expect to go and sweep the board again! It will be interesting to see how they stack up though.

I don't have any pictures of the champions yet, but here's a couple of next year's hopefuls: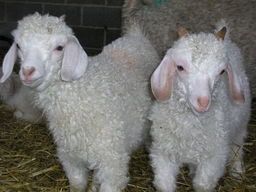 Ok, enough bragging, on to knitting. I finished
Branching Out
which I gave to my mum: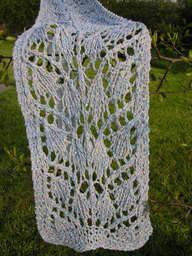 This was a really challenging pattern for me, requiring 100% concentration. I found I had to tink several times, but I learned a lot in the process. By about two thirds of the way through I felt I'd finally got the hang of the pattern. This was knit in a silk/wool mix yarn I bought on eBay.
Current WIPs include a second version of Branching Out, in Rowan KSH; Cozy in a wonderful cashmere yarn (again from eBay), and a turkish stitch shawl in Wendy Cotton Chenille. I knit this on the train on the way home from work, as the pattern is very easy and I don't have to think about it.
I'm not shawl obsessed, really! It's just that I'm not a very advanced knitter so shawls and scarves are a good way for me to learn different stitch patterns without worrying about shaping the thing as well. I am gradually building up my confidence.
Ok, I think that's enough for now. I need to do some work on this blog to get it looking how I would like - that will involve lots of learning about how to do things, like add buttons (just creating this post was steep learning curve!)