Knittyboard ABC along. C is for.....
Caravan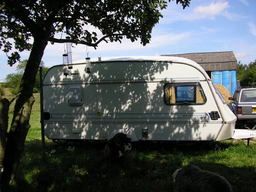 Last summer we moved house, and there was a period of 5 weeks from leaving our old house before we could move into the new one. For those 5 weeks we lived in this caravan. It was parked next to the barns in the yard, and to say I wasn't looking forward to 5 weeks of no running water, no flush toilets, no showers, basic cooking facilities - not to mention the vagaries of the British summer - was a bit of an understatement!
Well, we were blessed with 5 weeks of uninterrupted blazing hot sunshine, and our time in the caravan turned out to be filled with very happy memories.
I had 2 weeks of holiday out of the 5, and was up very early each day before it got too hot. Long lazy walks with the dogs down to the river which borders our land, so they could swim and cool off. Lazing in the shade, knitting, reading, just taking life easy.
I learned to knit socks in this caravan!
At night, we would lie in bed and listen to the sounds of the animals snuffling and bleating gently to one another.
We were also living in the caravan on July 7th - the day of the terrorist bombings in London. I was in London that day, probably about 20 minutes ahead of the tube in which a bomb went off at Aldgate. We felt the force of the explosion in our office. It took forever to get home that evening. The few trains running were absolutely packed, but no one complained, no one whined or moaned. I think we were all thinking "It could have been me".
When I finally got home and saw the lights in the caravan I felt very very grateful to be safely home.
We'll be selling the caravan in the spring (hopefully), but I'll always have fond memories of those weeks when it was our home.